Week Twelve: November 27-December 3
Vendor in a strange land
Back in New York, the aftermath of the paired attacks continues to seep into daily existence.


DK loves NY



Online banking?



Osama target practice



An aerodynamic replacement
Mike Ditka
Insulated by time, advertisements increasingly reference the tragedy. Some are tasteful, some not.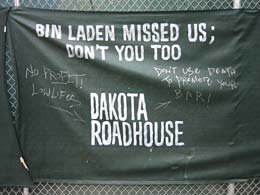 Don't use death to promote your bar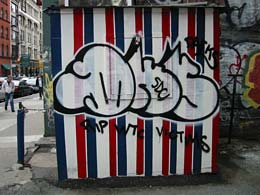 RIP WTC victims
Even graffiti goes patriotic.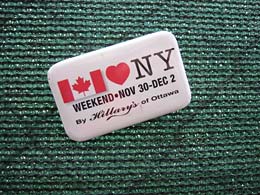 Left behind
Some of the city's support is close to home; an estimated 20,000 Canadians visited New York this weekend, and the lights of the Empire State Building burned white and red in their honor.



Statue of Coke, repurposed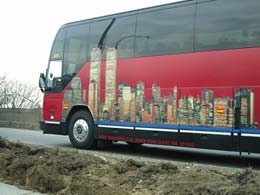 Antique
Elsewhere, corporate images take on meanings they didn't have before the 11th.



Still dusty
Times Square recruiting station
And familiar fixtures of the city seem different.



Watching from Dey Street



Police cruiser



Fence around the Red Zone
Unauthorized pedestrians
I meet a man from North Carolina who's been overseeing some work on the disaster site during the day and staying at the nearby SoHo Grand hotel at night: "I just saw Blink 182 this morning. They're staying in the penthouse."
I ask him what he thinks about the Ground Zero operations, and he says he agrees with everything going on at the site except the unequal treatment of the victim's remains—police and firemen are draped in a flag and carried by an honor guard, but the bodies of civilians are simply placed in body bags. "We recovered six today, three yesterday. I think they all should be treated with the same respect."
The operation also has less traumatic moments: "We found a really nice Buick—dusty, but untouched. It's stuck, though, and we can't get it out."
The Pile has quickly become The Pit: digging is proceeding 3 levels underground, with 4 1/2 levels of basement to go. The two remaining damaged buildings should be removed by Saturday, though there have been delays in safely removing the standing facade.

The Pit
Crane near the South Tower
3 floors down
The facade is still there


New York Stock Exchange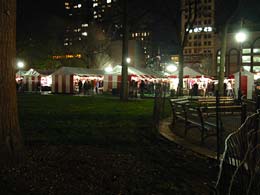 Union Square
Much of the city is preparing for the holidays: Union Square has been occupied by an outdoor mall of shopping tents.



St Paul's Chapel

The Stock Exchange and City Hall have new lights to match new flags.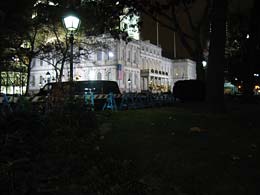 Nothing gets past the black van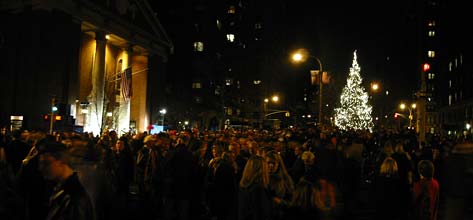 Advent caroling


Sunday night caroling on 92nd Street celebrates the beginning of Advent. Mayor Giuliani triggers the lighting of a 2-mile stretch of trees on Park Avenue, shouting "Let there be light!"