Week Nine: November 6-12


Ellis Island in the distance
It's a bright, cold, sunny day, and I'm on the roof of an apartment building just south of Trinity Church.
Looking south-west, Ellis Island is visible across land reclaimed from the Hudson River during the construction of the World Trade Center.


Directly above Trinity Church


A crane works on WTC 4



Trinity Street

Turning an looking north, the view is incredible.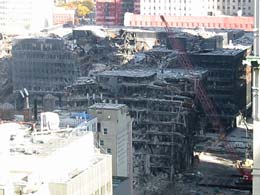 WTC 4 (foreground) and WTC 5
The view up Trinity Street shows buildings 4 and 5 World Trade Center, the two partially-collapsed buildings east of the towers.
Nine weeks in, and many floors are still standing.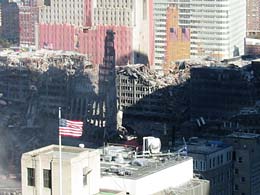 Facade of the North Tower (WTC 1)
Fires still burn underground, and everything but the construction equipment is gray.


Windy



Michigan lends a hand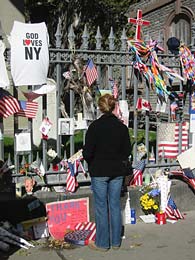 St Paul's Chapel
Back down at street level, there is more color.



Laughing

See no evil


A long lifeline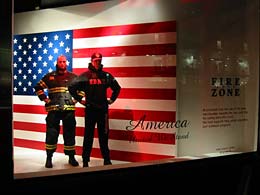 Bloomingdales
Tuesday November 6th is Election Day.



Posters in Chinatown



Handle with care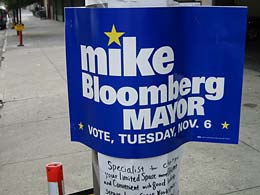 Mike for Mayor
Mike Bloomberg is elected Mayor, after record campaign spending of $69 million—an average of $96 for each of the 718,488 votes cast in his favor.
That helps explain all the posters.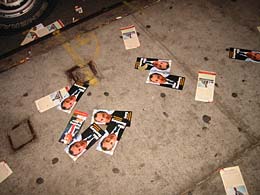 Mini Mikes
The Post Office release a poster of its own: know your suspicious mail.



One New Yorker didn't love peace



Gloved one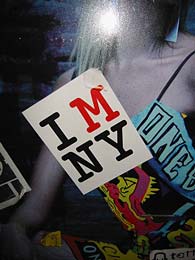 I M NY
The city is held up by paper—new postings cover old fragments, leaving unintentional word games that eventually fade and tear and wash away.



Ink, fire, flags, and Tito

Of course, this being New York, any reminder that won't fade or tear or wash away is for sale.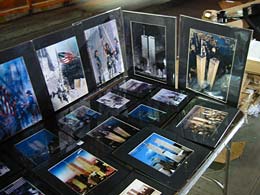 Times Square

Under the FDR Drive


Brooklyn Bridge
On November 12, American Airlines Flight 587 breaks apart and falls on Rockaway Beach, Queens.
A Level 1 Emergency is called: all bridges, tunnels and airports around the city are shut down.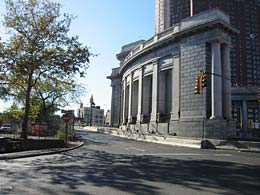 Manhattan Bridge, closed
The closures happen very, very quickly.


Lower Manhattan