Week One: September 11-17


Watching



As close as I went

Tuesday, 9:07 am. I stand on West Broadway, a few blocks south of Canal Street, looking straight at the burning buildings. People on the street are crying, staring, confused.
Lispenard St
A few cars and vans, some dirty or damaged, filter north from the towers, but most of the traffic is emergency vehicles, heading south.
Lucky


Truth in advertising

As the week goes on, the emergency vehicles settle into regular patterns, but don't stop. Heavy equipment and buses in, dump trucks out.
The morning after


Canal Street memorial



Greenwich Village



Avenue of the Americas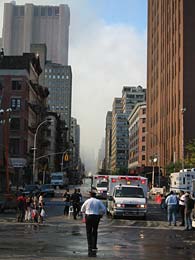 Looking down Church Street
Police barriers, memorials, missing posters and candles spring up everywhere.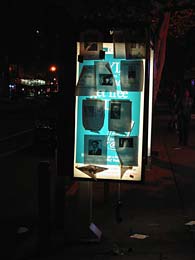 Greenwich VIllage phone booth
Unused wheel dozers sit idle, taking up blocks of asphalt.



John St
World of Golf


Ground Zero



The pile, the dome, the flag

Behind the police lines, dust and ash.
OTB
Some businesses begin cleaning, others will remain closed for months.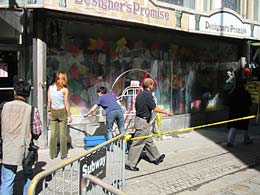 Window wash
So much paper



A window on John St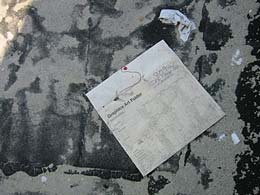 Graphics art
By the end of the week most streets have been plowed and swept, but rooftops remain covered with dust and debris.
In some places the dust has been put to use: as a memorial, and as a warning.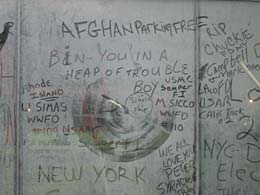 Bin you in a heap of trouble boy