Week Seven: October 23-29


More from Milton Glaser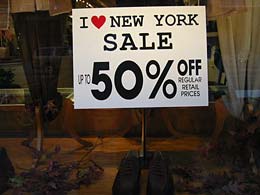 Love for sale
Week 7 brings sales, sales, sales. Retailers fear a grim holiday season.



God Bless America



Farmer's Market, Union Square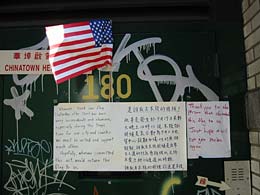 Whoever took our flag...
Halloween approaches, creeping in between the flags.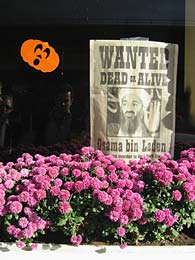 Boo

Union Square
An accidental scaffold collapse near Union Square kills 4 workers and injures 14. There are some sighs of relief from the Farmer's Market when onlookers hear what happened—many still equate multiple sirens with terrorism.

Xpecting to get in


Bryant Park
Bill Gates launches Windows XP in Bryant Park amid heightened security: no bags, no cameras, photo ID please.
Sting opens with An Englishman in New York.



Day traitors?



Not the answer



The other terrorists
Both want war
Farther south, the East Village hosts a mixed campaign of posters and stickers: commercial, political, protest, cryptic.
Bar codes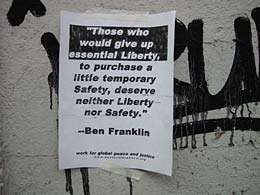 Essential Liberty


Mourn war


A good adhesive is essential for longevity; many controversial posters are torn down as soon as they are put up.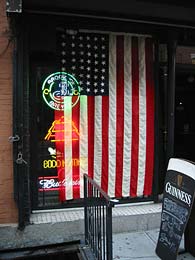 48 over neon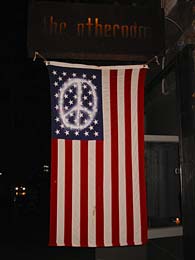 Paint over 50
Other neighborhoods memorialize in their own ways; in the Village, peace flags. In Chelsea, NYPD snow globes and patriotic club gear.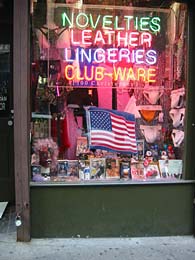 Support our troops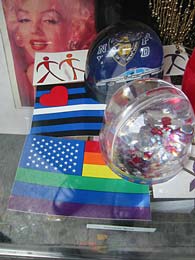 Marilyn looks on


44th St & 8th Ave



"Going to ground zero around heroes"



NYC from the deck of the Intrepid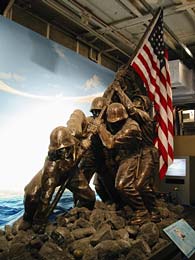 Iwo Jima
Midtown, the message is simple and serial: United we stand.
On the way to the Intrepid Museum, I stumble upon the same overcome fireman statue I'd seen on Day 8, still waiting to be delivered to Ground Zero.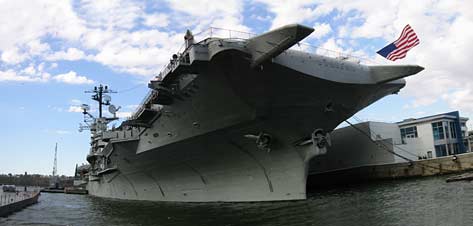 The WWII aircraft carrier Intrepid


Empire State Building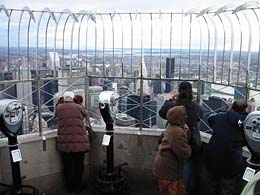 Cold


Valid ID



Bryant Park

From the top of the Empire State Building, the "Capitol of the Capital of the World," you can see 4 states.
Other bars he lays before me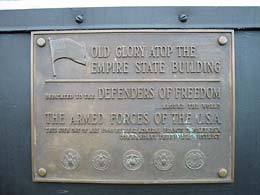 Old Glory
East: Queens & Brooklyn
North: Rockefeller Center, the Chrysler Building, the U.N., etc.


South: the Flatiron Building and lower Manhattan



Down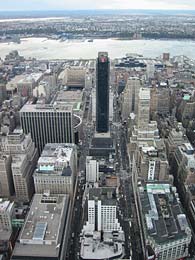 West: Madison Square Garden & One Penn Plaza
The floodlights will burn red, white, and blue until December.



They made a monkey out of old King Kong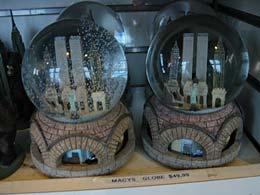 Only $49.99
The gift shop still sells WTC snow globes.

Lower Manhattan, Brooklyn, Staten Island & New Jersey